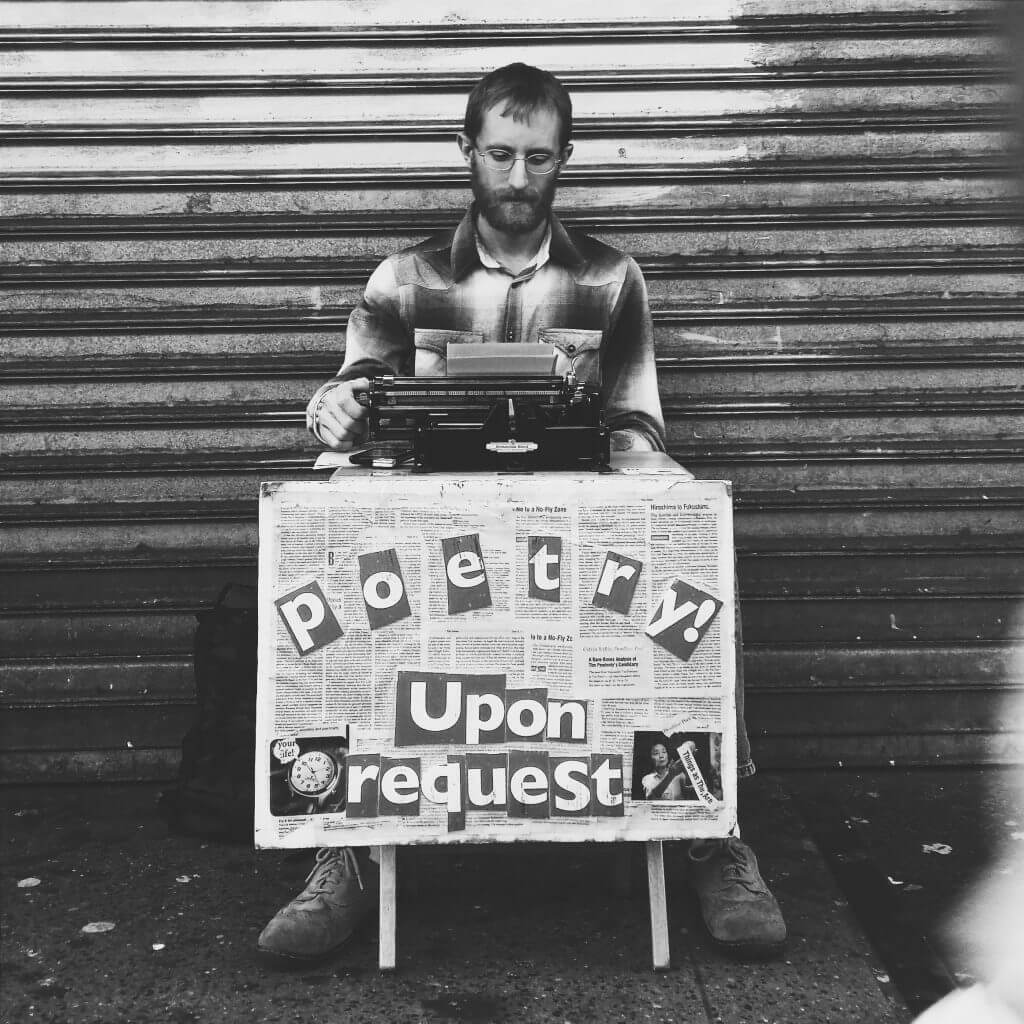 What is Poetry Upon Request?
I write spontaneous original poetry at an old typewriter upon the request of you, the patron. I offer this service to individuals in public spaces and to groups at private events. Our conversation, and the resulting poem, serve to move and enlighten us both, often functioning as a mini therapy session as well as artistic expression. The poem is then yours to treasure for years to come. Hundreds of them have been framed or stuck on refrigerators. I keep carbon copies and make books out of them.
Why should I take this seriously?
Selected press coverage can be found on the right-hand side and you can see some of my past clients below. Many reputable, popular, and well-resourced organizations have hired me and would say nice things about their experiences. High-powered firms where serious intellectual work happens are my bread and butter. I love to work for law offices, creative designers, number crunchers, and others of discipline and education.
Previous Poetry Upon Request Corporate, Design, and Branding Firm Clients:
Did you study poetry?
Why yes. I went to Marlboro College and Naropa University, studying other people's ideas about how poems happen. (I mainly learned that nobody has any idea how poems happen.) Take a gander at some of these institutions of culture and higher learning that have hired me to write them poems, including my alma mater. They have nice logos too.
Selected Poetry Upon Request School and Museum Clients: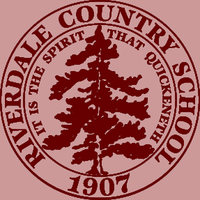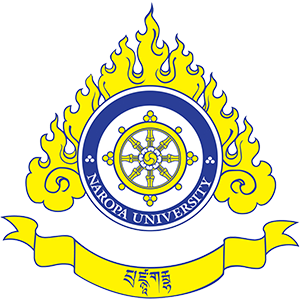 Will you type for my personal or neighborhood event?
Yes! I write for events of all kinds. I have done many weddings and community events. Below is a list of some of the community groups and festivals I have worked with. I do everything from black tie events to backyard barbecues.
Previous Poetry Upon Request Community Organization and Festival Clients: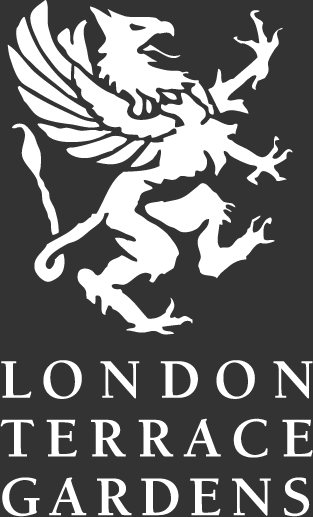 Rates and expectations
During my public appearances, I work on a donation basis. My suggested rate is $10-40 for an individual poem. You can give more if you have the resources, or less if you don't. I only write individual poems in person, not by correspondence. You may find my upcoming appearances on Twitter @alandramarkman.
For private events, please ask me for a quote. I typically ask for $400-$800 to type for an event for 3-5 hours. I expect personal and charity events to be on the lower end of this scale, while corporate and institutional events fall on the higher end. In this time frame, I can write for 15-30 of your guests.
I will work anywhere in the world. For events outside of New York City, I expect to have my travel and accommodations covered.
I value accessibility, so if you doubt you can afford this, make me a reasonable offer. I am often willing to work something out.
Bookings and other questions
To book an event or get more information, please email me or fill out the form below. I generally respond within a day or two.

[Alandra Markman] sits in front of a little black typewriter, his fingers dancing to the rhythm of youth that encapsulates Union Square. People watch in awe as his fingers move rapidly across the keys, inking life onto the blank page before him. Minutes later, a fresh poem is born.
Over the last six years, the 26-year-old street poet has composed more than 5,000 pieces throughout his career in New York City, often between Union Square and Penn Station. Occasionally, he asks people to share what's on their mind. Other times, he tries to gauge their emotions simply through their presence while he listens for non-verbal cues. His poems are eccentric and cleverly strung together, often surprising his customers with abstract, sometimes personal details.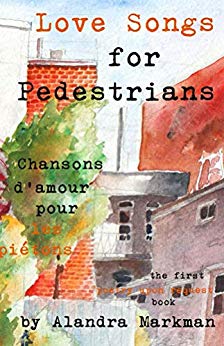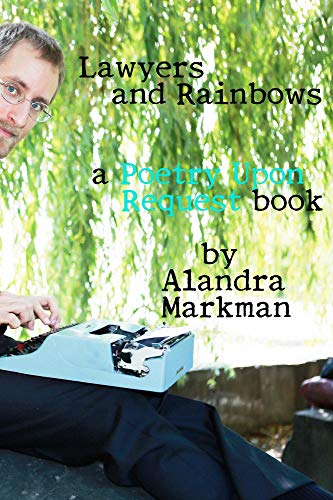 Press organizations that have featured Poetry Upon Request: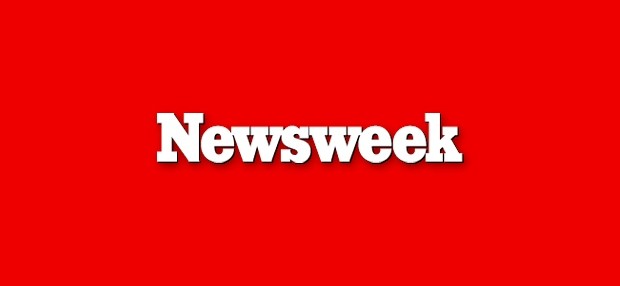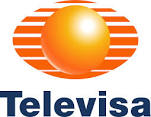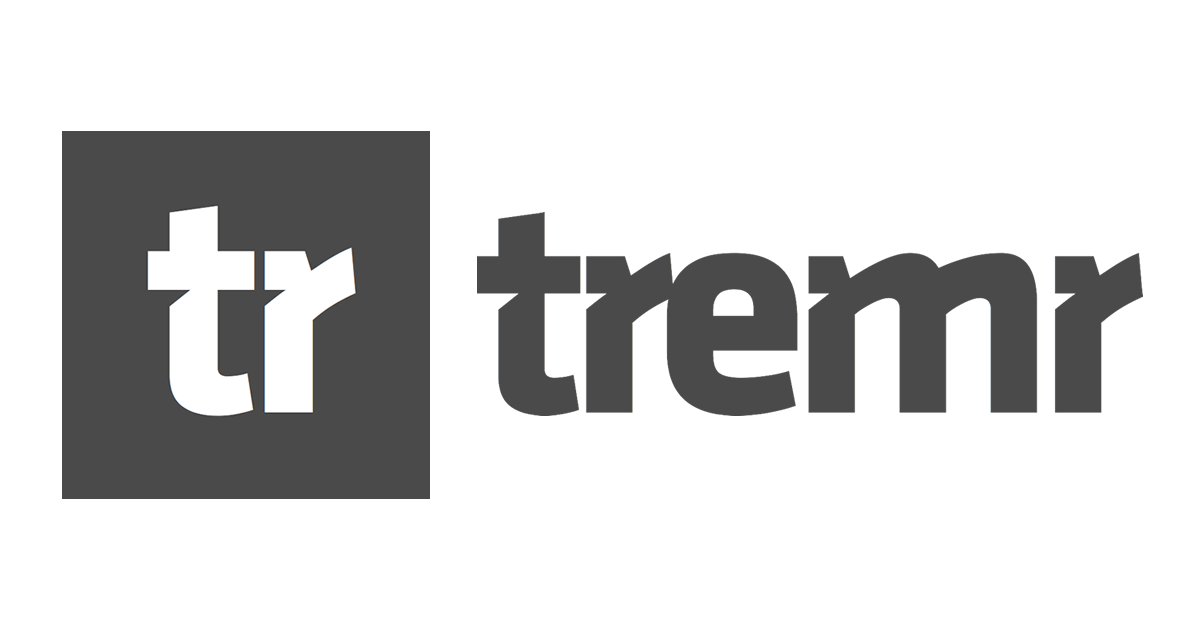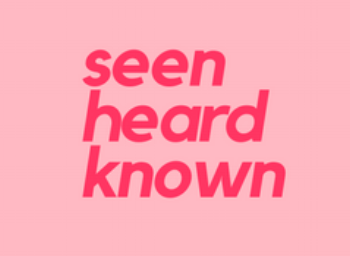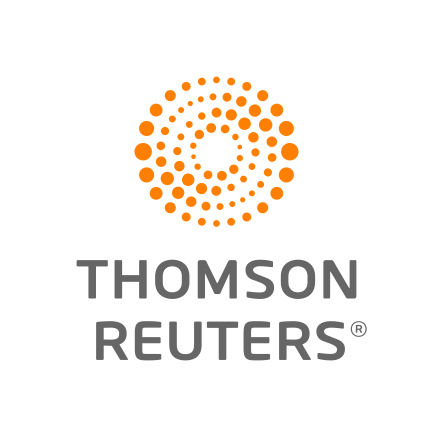 hashtags:
typewriter, typewriter poet, typewriter poetry, new york city, nyc, typing poet, party poet, event poet, entertainer, improviser, improvising poet, poetry while you wait, haiku, beat, bespoke poetry